I'm at it again with the CreativeBuzz girls!
This month our challenge was to create a pumpkin post. It could be anything that has to do with pumpkins.  So of course wanted to continue with my Fall coastal theme. My coastal Mod Podge pumpkins have been a major hit so I wanted to make another coastal theme pumpkin to go with my decor!
Getting Started
I rounded up some extra pumpkins I had (got the small ones at the Dollar Tree). I had to use my favorite Americana Decor chalk paint (wisper) and my "Handy Dandy" gold leaf pen.
TIME TO GET STARTED!! In my best Oprah voice.
Step 1 – Paint Your Pumpkins
I ended up having to paint three coats of chalk paint on the pumpkins. I let each coat dry 20 minutes.
Step 2 – Trace and Cut out Anchor
I could have used my Silhouette for this project BUT I already had a wooden anchor that was the perfect size. I pulled out a scrap piece of vinyl and traced out my anchor. Then I cut the anchor out!!
Super easy right?!!?
Step 3 – Add Your Vinyl Anchor
Next I added the anchor to the front of the pumpkin, making sure to press the edges down good.

Step 4 – Add Your Dots
I went around the entire anchor first with the gold leaf pen dotting the edges. After that I started adding my dots around the pumpkin.
I had a lot of fun with this part!!
Step 5 – Peel off Your Vinyl
Now it's time to remove the vinyl and see your anchor!!

Step 6 – Finishing Touches
I think that the anchor pumpkin turned out pretty cool!! I added a couple smaller pumpkins to match.
Can I just say what an easy project this was to do. I already had all the supplies on hand, which it always great. See stocking up on craft supplies comes in handy!
I couldn't wait to display them. You will see more pictures when I post my Fall Home Tour that I'm participating in!!
You can see the entire coastal Fall inspiration that I'm doing, super excited about it!!
Now on to all the other ladies amazing pumpkin projects, crafts, and recipes. This months CreativeBuzz Team had TONS of clever ideas!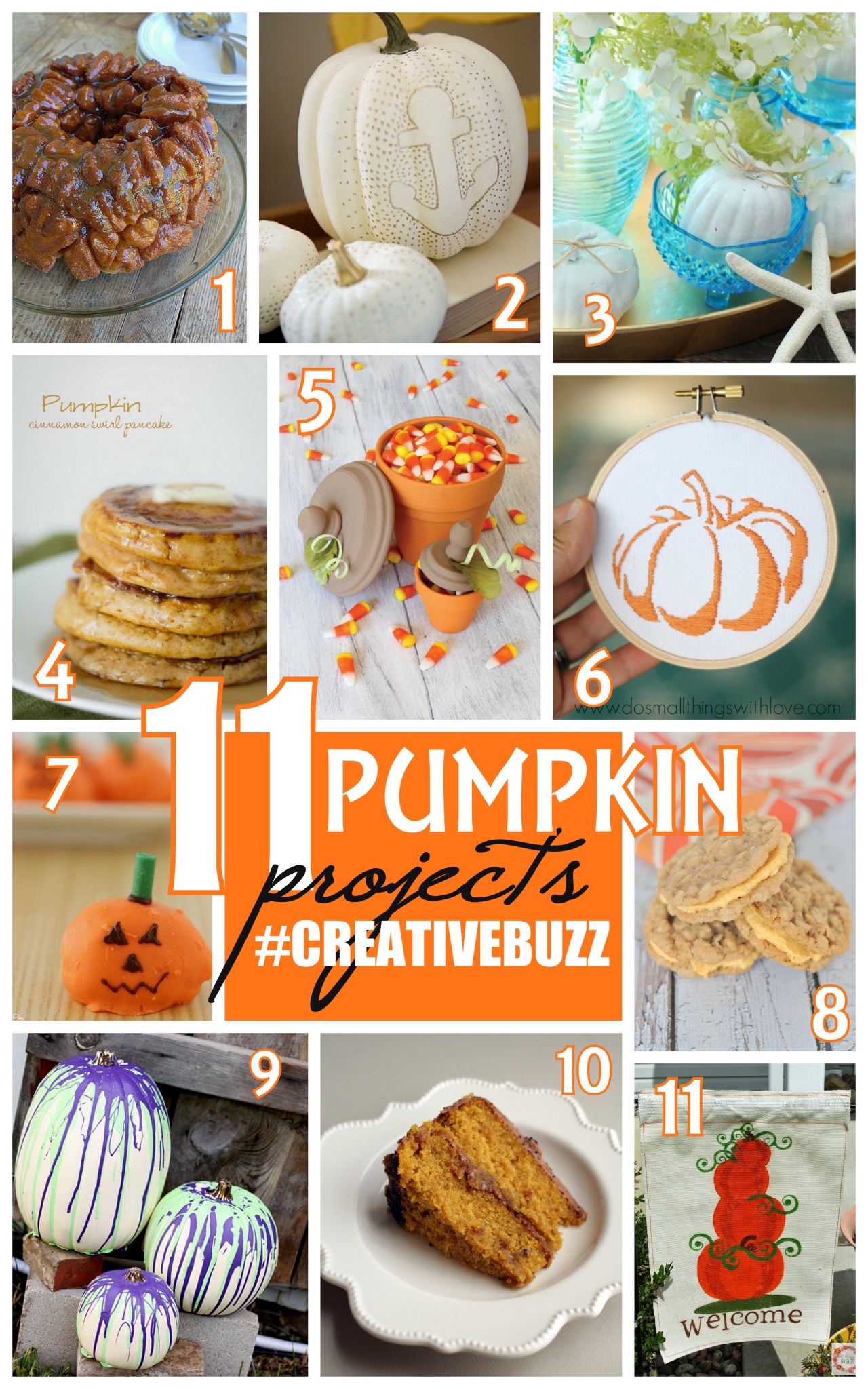 1. Pumpkin Pie Spiced Monkey Bread – This Silly Girl's Life
2. Coastal Anchor Pumpkin – Crafts by Courtney
3. Dollar Store Painted Pumpkins – All Things with Purpose
4. Cinnamon Swirl Pumpkin Pancakes – Made to be a Momma
5. Terra Cotta Pumpkin Fall Decor – Seven Thirty Three
6. Pumpkin Embroidery – Do Small Things with Love
7. Cream Puff Pumpkins – Play, Party, Pin
8. Oatmeal Pumpkin Sandwich Cookies – Just Us Four
9. Dipped Pumpkin Decor – Sugar Bee Crafts
10. Pumpkin Cake with Milk Chocolate Icing – Handmade in the Heartland
11. Burlap Mini Garden Flag with Painted Pumpkins – A Glimpse Inside
Love, Courtney